Alexis in Ampang
Me and my boyfriend went to eat Alexis at Great Eastern Mall, located in Ampang. I heard from many blogs that the tapas mushroom is nice there. Thus, I ordered Tapas mushroom and my boyfriend ordered Chicken Sandwich. For drinks, we just order a teapot of passion tea.
Chicken sandwich tastes normal. Nothing special and the appearance just so so. For the tapas, not bad but not until very good. Maybe both of us have high expectation when it comes to food. But for the tea, I am satisfied. The smell is nice and makes you feel calm.

Tapas Mushroom



Chicken Sandwich


Passion Tea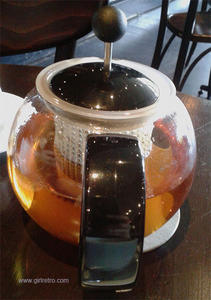 Will I go there again? My answer is no because the I have higher expectation since the food is not cheap. Total bill is MYR60+. Last time they will give you free drinking water without asking it but now I am not sure. Even the service is not as good as last time. When I went there few years back, they will ask you whether you need anything else while you are still eating and ask whether the food is ok or not.
And they didn't update the price on the menu. What is written on the menu is different than on the receipt.
Alexis
Lot 10 & 11
Great Eastern Mall
303 Jalan Ampang
50450 Kuala Lumpur
T 603 4260 2288