Gap introduces "khakis with attitude"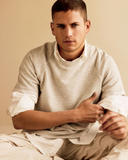 Gap has new fashion line which is "khakis with attitude" for spring 2007. This campaign will have some of the actors and models wearing their labels such as Kyra Sedgwick, Wentworth Miller(you can see from their photos here) and many more.
These attire express lighter look, mood and style than ever before with wide-leg pants.These are not limited to pants only,but they also cater for skirts too.
Im sure people will feel comfortable wearing these pants as oppose to tight jeans.I do like to wear khakis too and sometimes feel uneasy to wear jeans,especially when im full after eating my food.LOL.