Victoria Beckham Claims Her Thin Figure Due Strict Diet, Not Disorder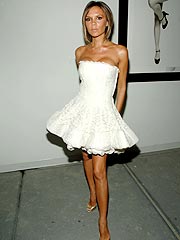 Former Spice girl claims that her super thin figure is due to her strict diet and not eating disorder.
During a recent appearance on the BBC Radio program, she said that "
"I eat really healthy, I love Japanese food, lots of fish, any sort of fish, any sort of vegetable, lots of fruit, that kind of thing".
Well, i prefer her figure when she was a spice girl.Back then,her figure was nice, now she looks like skeleton.