Singer Rihanna's concert in Malaysia cancelled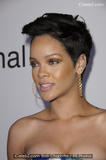 Rihanna was supposed to sing in Malaysia but she has to cancelled because of her injuries on her face. According to TMZ, her injuries were terrible. Her face swollen and her nose was bleeding. There were even bite marks on her arms and fingers.
According to Rihhana, Chris Brown attacked her. How could Chris Brown do this to her. A man who beat a lady is a monster. I hate guy that beats up a lady. Why don't they beat somebody in their own size instead or go wrestling.