Shannen Doherty call 911 to help possibly suicidal fan on Twitter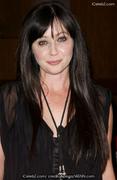 Shannen Doherty called 911 because one Twitter fan threatens to commit suicide.
She said, "This is going to sound incredibly strange. My name is Shannon Doherty, and I'm an actress and there is a girl who is threatening to shoot herself."
"I'm completely untrained to deal with somebody threatening suicide," Doherty admits during the call. "It's been an undoing thing and my security guys told me to block her, because she's aggressive and does very erratic things . . . I felt bad for her to be honest."
The Shannen Says star then follows the dispatcher's instruction, tweeting the fan to get her home address.
"I would love it if you guys would just call back and let me know."