Photos of celebrities caught smooching
Tom Cruise and Katie Holmes kissing near Eiffel Tower.How romantic.
Wow,looks like Terri Seymour all over with Simon Cowell.Guess Simon wont complain about this matter compare to judging America Idol.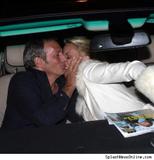 Looks like Nicollette Sheridan and Michael Bolton having trouble kissing.Maybe car is not the suitable place.