Pete Doherty checks in rehab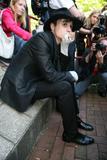 A source has confirms to PEOPLE that Pete Doherty has checked in Rehab. He is staying in the $600-per-day Clouds House, near Salisbury, Wiltshire, about two-and-a-half hours southwest of London.
At the rehab, he will expected to do chores – called "Therapeutic Duties" – which includes vacuuming the lounge in the shared house or setting the table for dinner. He can also take part in Friday night sing-alongs with a band called Mustard Seed, who put "recovery lyrics to popular music," according to the center's Web site.
A friend tells PEOPLE: "He really needs help, and we're grateful he's getting it."
Hopefully he will able to recover from drug addiction. It has been years that he was addicted to drugs. I wonder how Kate Moss manage to stand his addiction in the past years.