Paris Hilton & Elisha Cuthbert new best pals?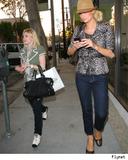 Looks like PAris Hilton found a new best friend,Elisha Cuthbert.Paris gave some shopping lessons to Elisha and brought her to one of her favourite spots of fashion on SAturday.Paris has selected 20 vintage dresses, 12 purses, 12 necklaces and 12 vintage scarves.Wow,she must be enjoying picking dozens of clothings.Elisha managed to find some super-cute 60s hats.
Well,thats the lifestyle of a celebrity.They can choose and buy dozen of clothings because they have tons of money.As for me,i spend hours just to buy a blouse.