Katie Price's new beau star in violent porn film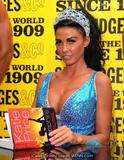 Katie Price's new beau Alex Reid star in a violent porn film. This was revealed by News of the World.
The film Killer Bitch show her beau Alex Reid in a disgusting rape and strangling scene. During the set, Jordan constantly calls Alex, which make him difficult to concentrate on his acting.
A source told us: "It was an aggressive rape scene but the woman ends up supposedly enjoying it. Alex didn't have any qualms about being naked in front of everyone.
"It was all very aggressive and he was really throwing himself into the role, grunting furiously."