Christina Aguilera request for large photo of her nude photos for Marie Claire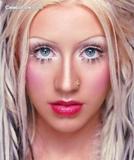 Recently Christina Aguilera posed for nude in Marie Claire magazine. She proudly showed off her pregnant stomach. Now she is requesting to have large size of the nude photographs she has taken.
A source close to the singer said: "Christina loved those pictures, and wants to put them up in her house so everyone can see them.
"She also wants them to be up when the baby is born so she can show him or her what their mum looked like while she was pregnant."
Image source from here