Amy Winehouse will remarried her ex husband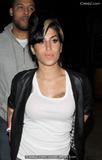 Amy Winehouse got engaged to her former husband Blake Fielder-Civil last month. They had a divorced in September but they still love each other.
He said: "Amy and I have talked about getting married again and starting a family. We both definitely want kids."
"This time we're doing things properly and hopefully that will help both our families come round to the idea.
"We've both been through a lot but we love each other the same as ever. We've tried to get on with our lives and to see other people, but it wasn't the same.
"There's no one like Amy. She will always be the love of my life."
He went on: "We're free of drugs and we're more responsible now.
"Coming off heroin was hell. I've been through a year of intensive rehab, I'm 100 per cent clean and I plan to stay clean. I'm not going to let anyone down."
"Amy said, 'You inspire me'. She's proud of me for staying off drugs, and she's determined to do the same."